A woman whose father was injured in an IRA bomb 50 years ago has said the friendship she forged with the bomber has helped her through the recent death of her husband.
Jean Jefferson's father was severely disfigured in the blast, which killed six people, including her aunt, in Coleraine in 1973.
In 2011, Jean met and forgave the man who was convicted of the bombing.
Sean McGlinchey spent 18 years in jail for his part in the car bomb attack.
Two car bombs exploded in the County Londonderry town on 12 June 1973.
All of those injured or killed were caught up in the first explosion, which went off on Railway Road at 15:00 BST.
A second explosion went off in Hanover Place five minutes later.
"I was teaching in England at the time and got a call that changed our lives forever," Mrs Jefferson told BBC News NI.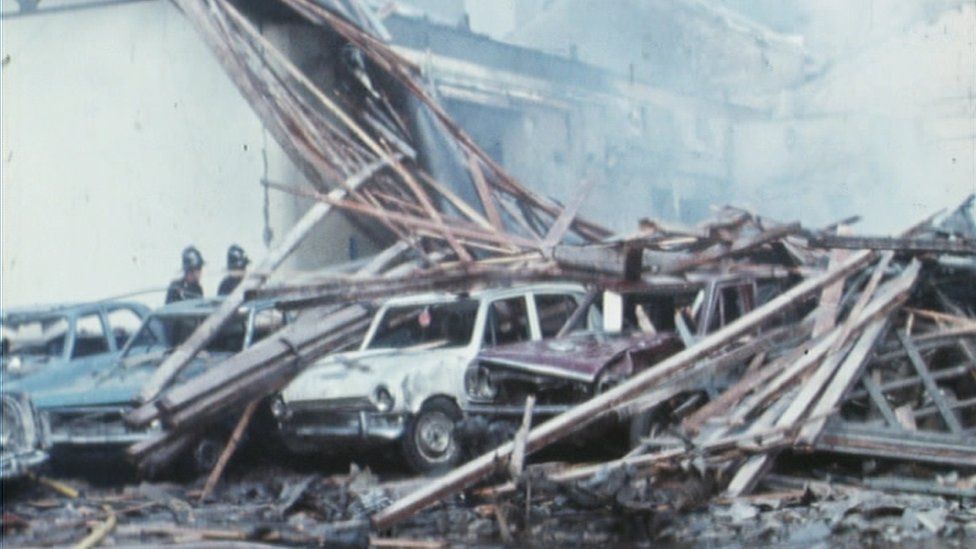 "My sister ran down town to see what happened. My father was sat with his head in his hands. She didn't even recognise him because he was that injured.
"I remember arriving back at the airport in Northern Ireland. Nobody was able to meet me at Aldergrove because of what happened at home.
"Home changed from then. How could someone do that in my home town, I thought."
Father forgave bomber
Sean McGlinchey, who is currently a Sinn Féin councillor, faced criticism after being appointed as mayor of Limavady in 2011.
Mrs Jefferson said: "People gave him such a hard time and I remember being angry as he said he was sorry.
"My father also forgave Sean although he never told him directly. He was the instigator of forgiveness. How could we as a family not forgive then?
"I understand why some people can't do what we've done. I understand all sides."
She added: "My husband died last year and Sean has been a great friend to me. Bill had a great deal of time for Sean.
"Sean had a mass said for him in the monastery in Portglenone. He was really upset about Bill's death. That meant a lot to me."
When asked in advance about John Finucane attending an IRA commemoration in south Armagh, Mrs Jefferson said she "has a lot of time" the Sinn Féin MP.
"I understand how people struggle to understand it but I really think he was condemned before he gave his speech. That's not right either."
Mrs Jefferson said she will spend the 50th anniversary of the IRA bombing on her own at home to reflect.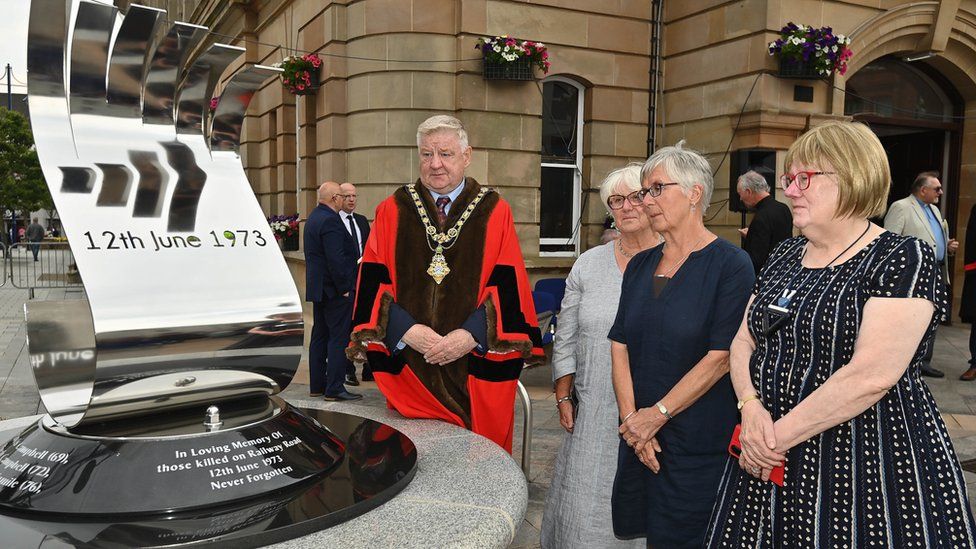 A memorial to the victims of the bombing was unveiled during an act of remembrance service in Coleraine on Monday afternoon.
Mayor of Causeway Coast and Glens Steven Callaghan said the memorial would ensure the innocent lives lost that day would never be forgotten.
"This beautiful sculpture will ensure the victims are never forgotten and will give the families a place to come and remember them," he said.
"We would not have reached this point without the help and support of the victims' families and I want to thank them for engaging with this long collaborative process to bring about this fitting memorial."
The permanent memorial follows the unveiling in 2022 of a granite plaque enshrined on a pavement at Railway Road in the town – marking the location of the first bomb.
Source: BBC