Junior doctors across the West are taking part in national strike action in a dispute over pay.
Picket lines have formed in Swindon, Bath, Bristol, Cheltenham and Gloucester.
The British Medical Association (BMA) said doctors have asked for a pay rise to make up for 15 years of inflation.
Dr Alex Tuck, a registrar at Great Western Hospital in Swindon, said: "When I go to work everyday I see a workforce that is at breaking point."
The 72-hour walkout by junior doctors, who represent 40% of the medical workforce, began at 06:30GMT and involves both emergency and planned care.
They are asking for a 35% pay rise, which the union said made "perfect sense".
It is the biggest walkout of doctors by British Medical Association members in the history of the NHS.
The government said it "hugely values" the work of junior doctors but said the strike action was "disappointing".
Consultants and other senior doctors are being drafted in to provide cover.
Cheltenham General's Emergency Department has become a nurse led minor injuries unit from 20:00 on Sunday to 08:00 on Thursday due to the strikes.
NHS leaders in Gloucestershire also warned patients to expect cancellations to planned outpatient appointments, procedures and operations but said they should attend appointments as usual unless they heard directly from the Trust.
Elsewhere across the West, in Somerset, Bristol and Wiltshire, patients were advised to attend appointments unless otherwise told.
Dr Tuck, at the Swindon picket line said: "We're walking out because we feel that the government has consistently eroded our pay over the last 14 years.
"When I go to work everyday I see a workforce that is at breaking point, and I feel that the only way we can try and rectify that is by being paid fairly.
"It's difficult. It's really difficult. Loads of my colleagues are leaving and they're not just saying they're frustrated – they're properly leaving and going to Australia, New Zealand or going to work for pharmaceutical companies.
'Burnt out'
"I love my job, but I'm seeing so many of my colleagues get completely burnt out, and without being valued by their pay they're not going to stay and we're not going to get new people.
"It is going to get worse and worse and patients are going to get even more of a bad service.
"It's been really bleak for people this winter, for staff and for patients and by the government valuing us we may be able to get a NHS that looks after patients and doesn't let them down."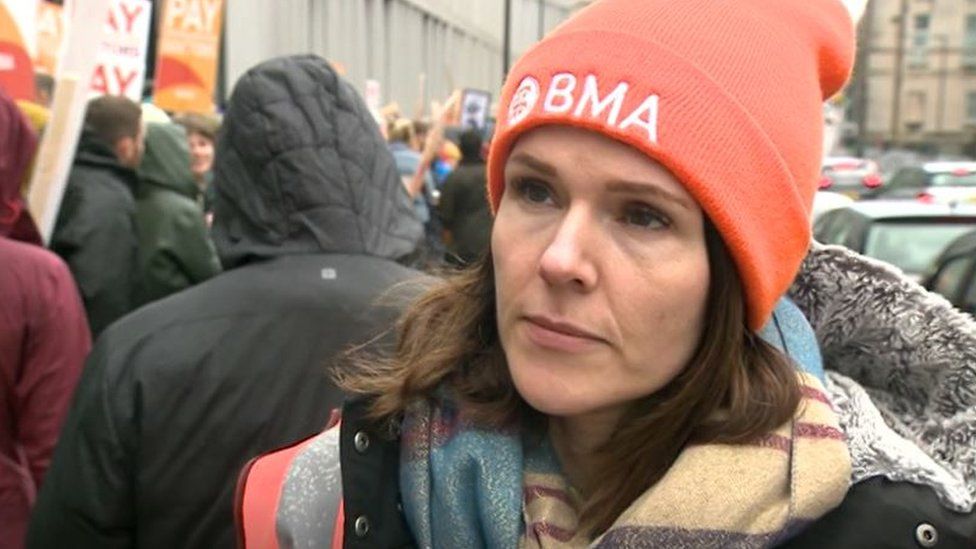 Dr Emma Coombe, a junior doctor at the Bristol Royal Infirmary and a rep with the BMA said: "It is ludicrous that junior doctor pay has been eroded for so long that we need a 35% rise to get us back up to the levels we were on in 2008.
"The truth of the matter is that if junior doctors aren't paid what they're worth, they'll just leave.
"We'd prefer to stay here and work with the NHS but we need to be able to afford our bills."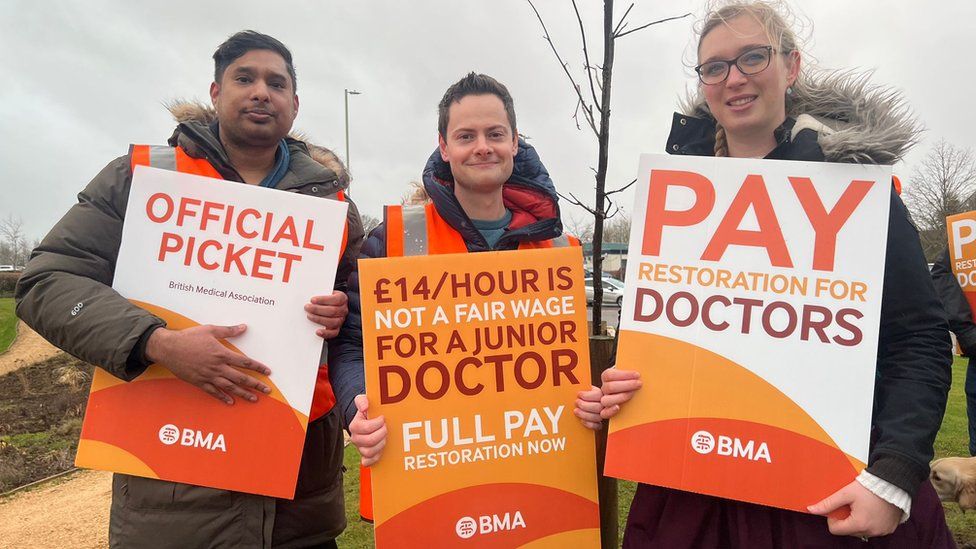 Dr Andy Tait, a junior doctor at the Swindon picket line said it had been a "difficult" decision to strike.
He said: "We don't want to be striking here, we'd rather be working in hospital doing the job, doing our training.
"But the fact is we've lost our pay, over 26% in real terms, so we're out here today to get our pay restored.
"But more than that, pay is inherently linked to working conditions.
"Because the pay has been falling for so many years, so many people are leaving the workforce – either different careers or different countries – so there are actually so many gaps in the rota, that our training and our working conditions, as well as patient safety is being affected."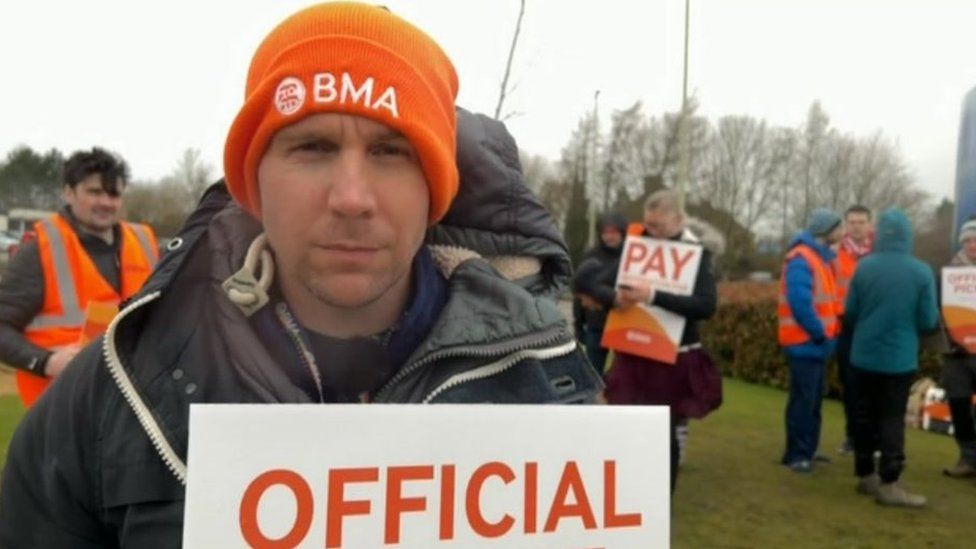 "The fact is an F1 doctor after five to six years of training is getting paid £14.10 an hour. That is not a good wage for anyone," Dr Tait added.
He said the fall in wage meant that doctors struggled to pay for their exams, which they have to pay for.
"Most of us are really struggling, we are well trained people and we deserve to be paid accordingly and we shouldn't be ashamed of saying that," he said.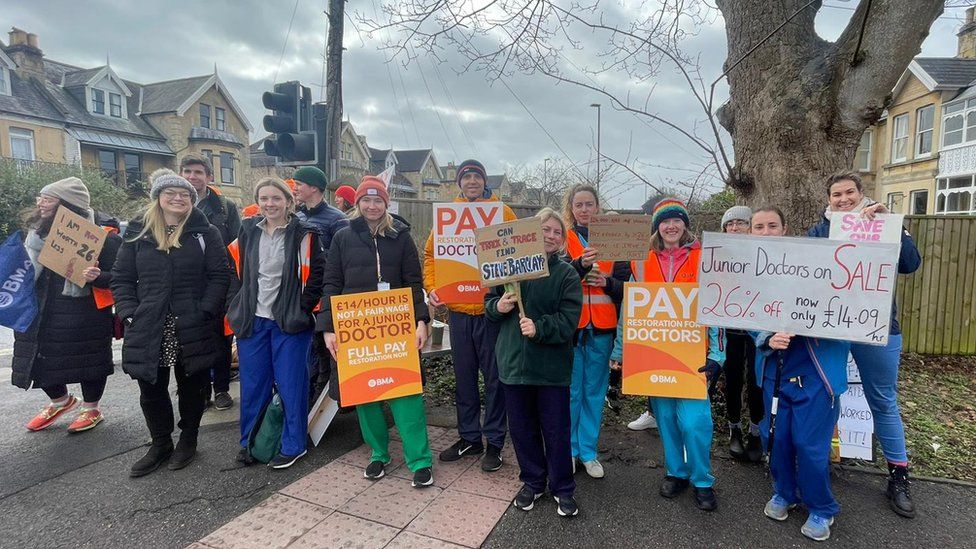 Health and Social Care Secretary Steve Barclay said that he hugely valued the hard work of junior doctors and that he wanted unions to "come to the negotiating table" to enter formal talks.
He also urged doctors to cancel strikes that risks patient safety and could impact the NHS backlog.
In a statement Mr Barclay said: "It is incredibly disappointing the British Medical Association has declined my offer to enter formal pay negotiations on the condition strikes are paused."
He also said he wanted to come to "a fair settlement" that recognised the crucial role of junior doctors and the wider economic pressures facing the UK.
Source: British Broadcasting Corporation