Under the updated agreement, UK police officers will be able to observe their French counterparts in control rooms and on beaches.
The number of officers patrolling the French coast to try to stop people setting off will rise from 200 to 300.
PM Rishi Sunak said he was "confident" the crossings could be brought down.
However, he warned there was no "single thing" that could "fix" the situation, promising "even greater cooperation" with France in the months ahead.
The government is coming under increasing pressure to reduce journeys across the Channel, which have risen to record levels this year.
BBC News home affairs correspondent Daniel Sandford said that while the expanded deal would further disrupt the people smugglers operating in France, it was unlikely to end their trade.
More than 40,000 people have crossed in small boats so far this year; while over the weekend, some 853 people were detected crossing the English Channel in small boats on Sunday, following 972 crossings on Saturday, the Ministry of Defence said.
Under the new agreement, signed by Home Secretary Suella Braverman during a trip to Paris, the amount the UK pays France to cover the cost of increased patrols will increase from £55m last year to £63m this year.
During her visit, Ms Braverman told UK broadcasters the money would pay for a "40% uplift" in the number of French police patrolling French beaches.
As well as extra officers and patrols, the British money will allow more use of drones and night vision equipment, and will also be spent on boosting reception and removal centres in France.
French ports will receive investment to increase the use of CCTV and detection dog teams to prevent illegal entry to the UK via lorries. UK observers will be embedded in French control rooms, and French observers embedded in UK control rooms – to help inform each other's deployments.
The deal had been close for several months but the French government were reluctant to finalise it until there was a stable government in the UK, our correspondent added.
Foreign Secretary James Cleverly said the UK wanted to "significantly" reduce the number of crossings – but declined to set a target for reductions.
Today's announcement may shift some officers closer to frontline decision-making – but it's not clear how the deal helps the UK to solve three pressing issues.
Firstly, those new British teams (on top of those deployed since 2018) will only be observers.
They have no operational powers, so even if more boats and smugglers are intercepted, they can't tell the French what to do with individual migrants who we know may try more than once to cross.
Secondly, some critics say the UK needs to look for a bigger continental-wide deal. But it chose not to be part of the EU's irregular migrant management policies, as part of Brexit.
The final big challenge is on the UK side of the English Channel. The Home Office's day-to-day battle to find somewhere to accommodate those who survive the sea is directly linked to the department's huge backlogs and the delays in dealing with those who arrived before them.
Franck Dhersin, mayor of Teteghem near the coastal town of Dunkirk, said the increase in crossings this year had come despite "a lot of police" watching the coast.
"We are talking about 175km of beaches and dunes, where it is very easy to hide," he told BBC Radio 4's Today programme.
He added that not all officers would be able to "permanently devote themselves" to patrolling the coast, as it would hamper their normal police duties.
The deal comes after weeks of criticism aimed at the government for severe overcrowding at the migrant processing site in Manston, Kent, and for its spending on housing for those waiting for their asylum applications to be completed.
Last month, the Home Affairs Committee heard that the UK is spending almost £7m a day on hotels for asylum seekers.
MPs also heard that only 4% of asylum claims by migrants who crossed the English Channel in 2021 had been processed.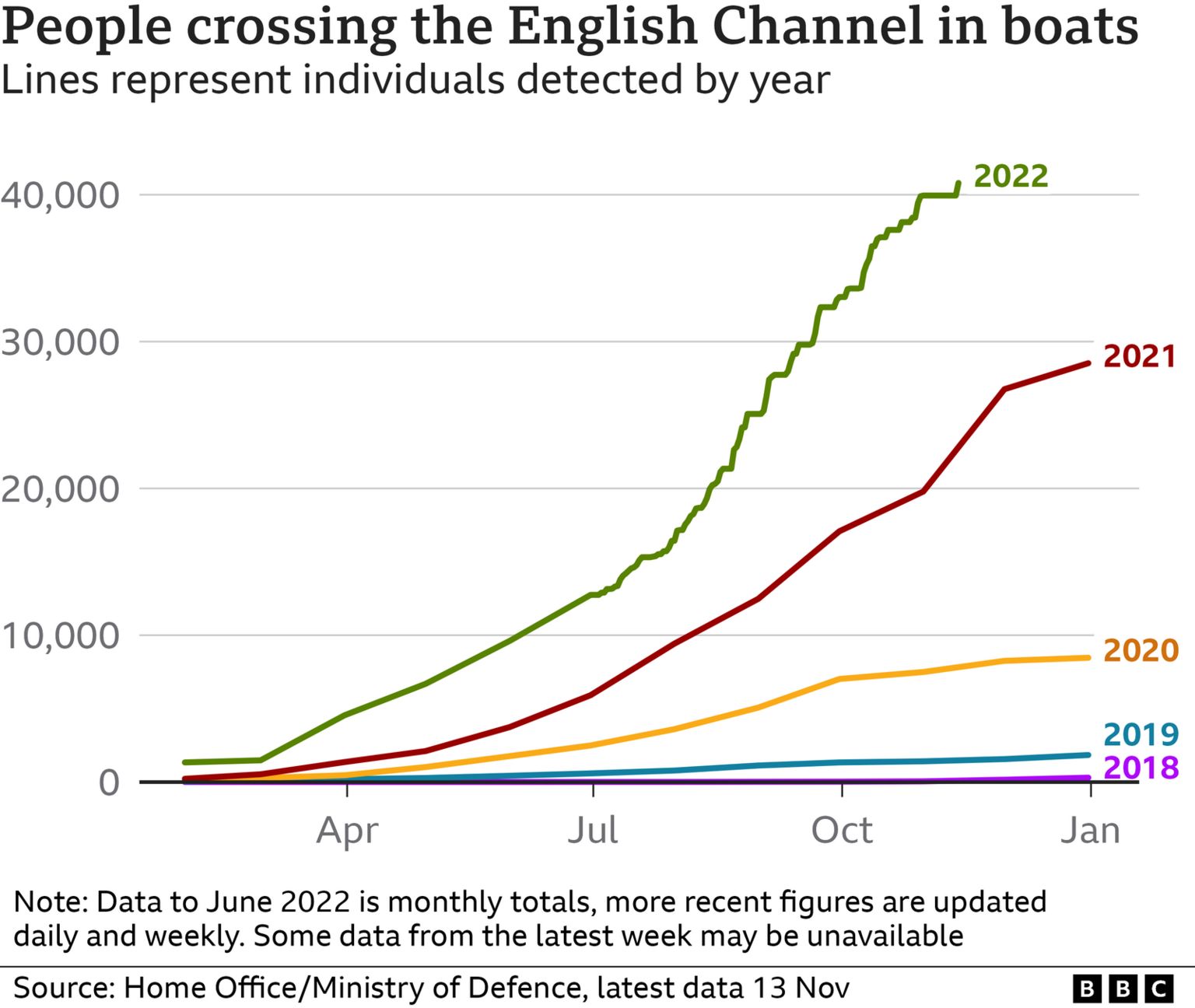 More than 40,000 people have crossed in small boats so far this year, up from 28,526 last year and 8,404 the year before.
The latest government figures for the year to the end of June 2022 showed that 103,000 asylum applications were awaiting a decision.
Ms Braverman has previously admitted the system was "broken" and Mr Sunak has said not enough asylum claims were being processed.
The home secretary will hope a new agreement with the French can ease pressure on the process.
More than 40,000 people applying for asylum have waited between one and three years for a decision on their claim, according to a Refugee Council Freedom of Information request, reported in The Guardian.
It also reported that a further 725 migrants have been waiting for more than five years to have their claim processed.
Once people who cross the English Channel in small boats reach UK shores, those who are detained are sent to Manston Airport in Kent where they undergo security and identity checks.
They are only meant to be held there for a short period before moving into the Home Office's asylum accommodation system while their claims are processed.
https://emp.bbc.com/emp/SMPj/2.46.6/iframe.htmlMedia caption,
Watch: Suella Braverman and France's Gérald Darmanin sign migrant patrol deal
However, last month it emerged there was severe overcrowding at Manston, with 4,000 people staying there rather than the 1,600 for which the site was intended.
Numbers have since been reduced to less than 1,600, according to immigration minister Robert Jenrick.
On Saturday it emerged people at Manston centre are to be vaccinated against highly contagious and sometimes fatal diphtheria after an outbreak.
The higher numbers of migrants making the crossing this year has been partly blamed on a big rise in the number of Albanian nationals making the journey.
So far this year 12,000 Albanians have arrived in the UK using small boats, compared to just 50 in 2020.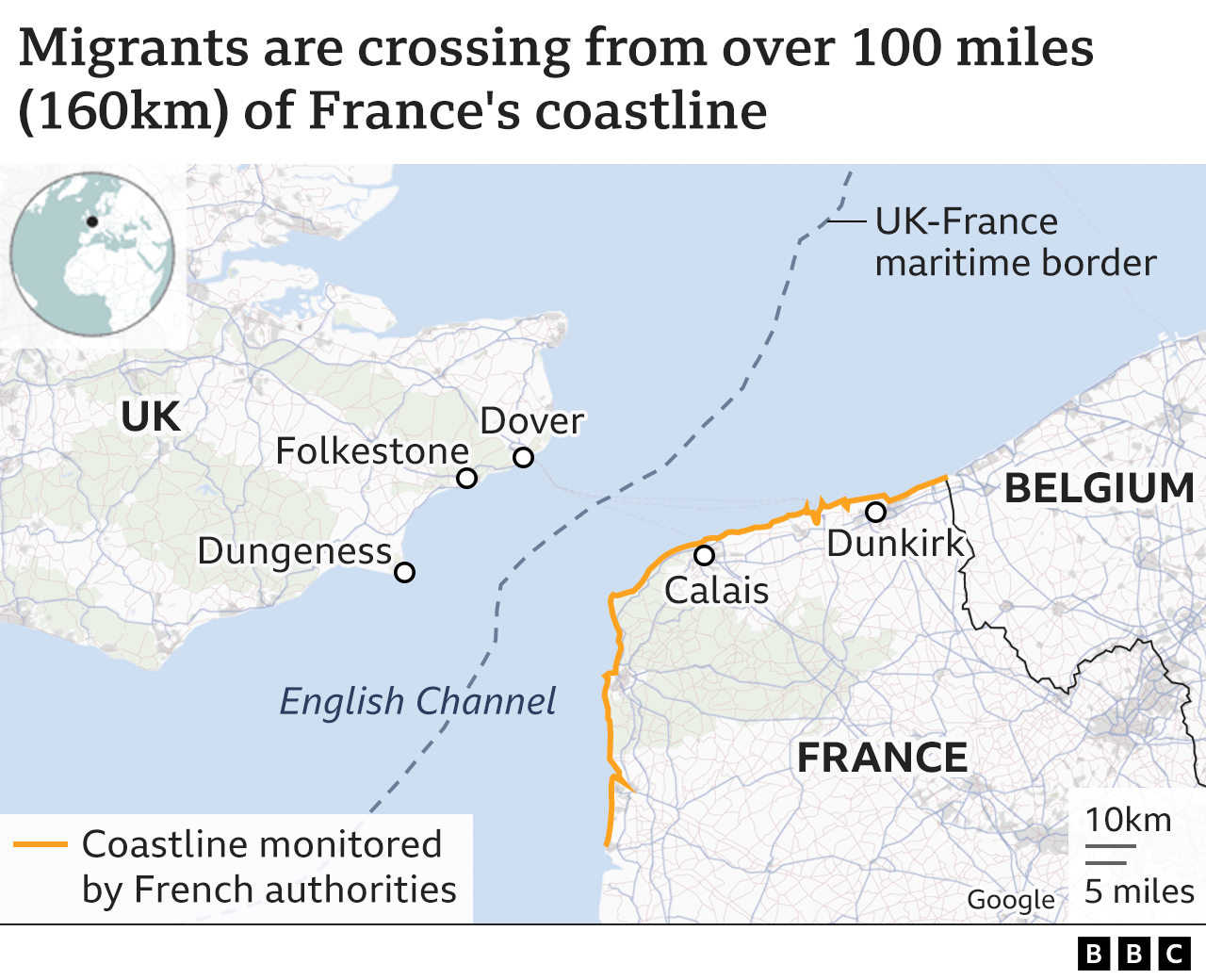 Source : BBC.Com