The UK economy unexpectedly grew in November, helped by a boost from the World Cup, official figures show.The UK economy unexpectedly grew in November, helped by a boost from the World Cup, official figures show.
The economy expanded by 0.1%, helped by demand for services in the tech sector and in spite of households being squeezed by rising prices.
The Office for National Statistics (ONS) said pubs and restaurants also boosted growth as people went out to watch the football.
But it is still unclear whether soaring costs will tip the UK into recession.
Although the November reading of gross domestic product – a measure of all the activity by businesses, the government and people in the UK – was much better than anticipated, the overall picture still suggests the economy is stagnating as food and energy bills go up and people cut back. 
The November increase marks a slowdown from a 0.5% rise in October, which was largely as a result of a bounceback from businesses shuttering to mark Queen Elizabeth II's funeral in September.
Economists have suggested that the latest data makes it less clear whether the UK will have entered a recession at the end of last year.
A recession is defined as two three-month periods, or quarters, of shrinking economic output in a row.
When a country is in recession, it is a sign that its economy is doing badly. During a downturn, companies typically make less money and the number of people unemployed rises. Graduates and school leavers also find it harder to get their first job.
Between July and September, UK economic output shrank by 0.3%.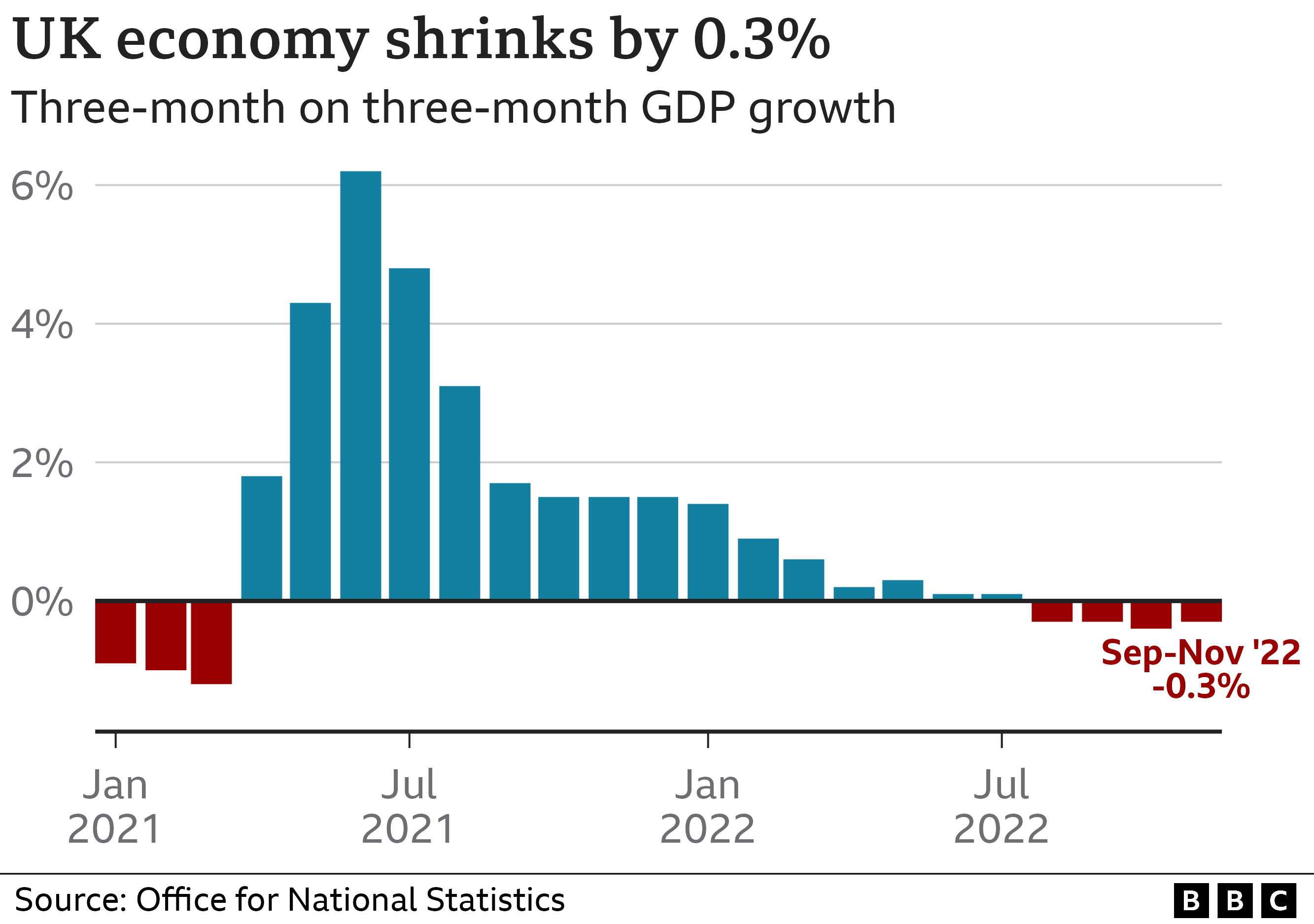 'The next 12 months are going to be tough'
At Gtech in Worcester, staff have definitely noticed the economy slowing down.
The company designs and sells cordless vacuum cleaners and other tools. After a busy pandemic, when people were keen to invest in keeping their homes and gardens looking nice, demand has begun to decline.
"We can feel that, yes, there's probably a recession coming on, people are finding things difficult," suggests Nick Grey, founder of the business. "They're kind of worried about their basic costs of heating and fuel and all the rest of it and the worries of inflation."
Despite that, the firm gave its staff a £1,000 cost-of-living payment in December, and gave its lower-paid staff a relatively more generous pay rise than the senior workers, as they are more affected by rising costs.
"I think the next 12 months are going to be tough," says Mr Grey. "We're just trying to make sure we do the basics well, and that when all this blows over, we're positioned well to grow and recover."
While the surprise today was that the economy grew in the month of November, the trend over three months is still down, by 0.3%. Overall the UK economy still appears to be weak but it is not certain it is in formal recession, and depends on the next set of figures released in a month.
The World Cup boosted pubs, pizza delivery and the ad industry helping the economy more than normal. But a series of previous monthly figures from the past year were revised down, leaving the less volatile three-month measure heading downwards. The impact of strikes was partly behind falls in transport and postal services of 4.7% and 3.1% respectively.
So a mixed bag of new and one-off factors, and statistical revisions that will probably still leave the Bank of England further raising rates next month, as it does its most thorough assessment of the state of the economy.