Controversial plans to house asylum seekers on redundant cruise ships have been thrown into disarray after two vessels were unable to find somewhere to dock.
There had been tentative reported plans for cruise ships to be housed in the Wirral, just outside Edinburgh and in London, but the proposals were all rebuffed. Sky News reported that two ships have been returned to their prior owners after their acquisition by the government.
The shadow immigration minister, Stephen Kinnock, told the broadcaster: "Having already overseen the asylum backlog grow nine-fold on their watch, and the cost rocket to £3.6bn, they are now shifting to yet another plan that hasn't been thought through – spending money on boats that have nowhere to dock."

A Home Office spokesperson said it would "continue to look at all available options for using this type of accommodation with suppliers, ports and local authorities."
The Wirral port operator reportedly declined to provide permission for the vessel to dock amid widespread local opposition, while the leader of Edinburgh council, Cammy Day, last month outlined his opposition to a "floating prison" for asylum seekers.
However, one barge, which will house up to 500 asylum seekers, was able to anchor on the Isle of Portland in Dorset. There were some ill-tempered scenes as rival protesters quarrelled but both sides opposed the arrival of the vessel. Pro-migrant groups believe the ships are inhumane, whereas the opposing faction has claimed that residents could be put in danger and resources sapped.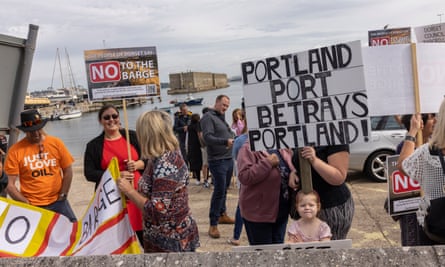 There had been considerable opposition to the plans to house asylum seekers off the shore of Merseyside. Officials at Wirral council had written to the Home Office and set out a "wide range of questions and concerns" while it had also complained of receiving "very few details" on the scheme.
Protesters gathered outside a Peel Ports meeting at a hotel in Liverpool last month calling on the company to not allow the boat, which reportedly could have housed more than 1,00 people, to moor. The Birkenhead MP, Mick Whitley, told the BBC in April: "I'm outraged by the Home Office's failure to meaningfully consult with the local authority, MPs and service providers."
A spokesperson for Peel Ports told local press: "We have been clear from the outset that any agreement to accommodate a vessel for refugees in Birkenhead will require the willing participation and full collaboration of local agencies. We have seen this model work over the course of last year, as we provided a berth for a vessel accommodating refugees in Glasgow." The Telegraph reported the port had decided against the move amid opposition from the council.
Last month, Sadiq Khan, the mayor of London, outlined his "strongest possible" opposition to the plans. "I am proud of London's history of providing sanctuary for those seeking refuge, and I am concerned that vulnerable people fleeing appalling circumstances would not have access to the support they need, with their safety, health and wellbeing being put at serious risk.
In Dorset, Portland Labour councillor Paul Kimber said on Tuesday: "Our objections are that having the barge here it is going to be like a prison for them. We are not against refugees, we welcome them here."
The government faced down opposition in the House of Lords on Monday night to controversial plans which would prevent people from claiming asylum in the UK if they arrive through unauthorised means. The proposed legislation is now poised to become law.
The government also hopes the changes will ensure detained people are promptly removed, either to their home country or a third country such as Rwanda, a plan which is the subject of a legal challenge.
Source : The Guardian