More than 1m small businesses may be paying energy bills significantly above market rates after becoming trapped in long-term contracts fixed when prices reached a historical peak last year.
Trade groups representing businesses from metalworkers to convenience stores have joined forces to warn of a "perilous situation".
They are calling on ministers to force suppliers to renegotiate unaffordable energy deals struck last summer or risk thousands of insolvencies that would hit jobs and the UK economy.
Around a quarter of the UK's 5.5m small businesses – over 1m companies – may have been forced to renew their long-term energy supply contracts at the peak of the market, according to separate surveys from the British Chamber of Commerce (BCC) and the Federation of Small Businesses (FSB), including through coercion or mis-selling.
At the time many small firms struggled to find an energy deal because suppliers either refused to supply small businesses or demanded large financial deposits.
Since then market prices have fallen, and on 1 April the government cut its financial support for business, but companies are still locked into long-term contracts that will force them to pay inflated prices based on last year's peak for months or even years to come.
In a letter to the business secretary, Grant Shapps, seen by the Guardian, the Confederation of British Metalformers (CBM) described the situation as the "biggest mis-selling scandal since PPI".
Stephen Morley, the president of the CBM, said small manufacturers faced a "perilous situation" that could put "another nail in the coffin of the British manufacturing sector" while energy suppliers and brokers make "huge profits at the expense of UK competitiveness".
The warning emerged weeks after the energy regulator, Ofgem, admitted that it was "very concerned" about the behaviour of some energy brokers and suppliers in relation to business energy customers.
In a letter to the chancellor of the exchequer last month, Ofgem said companies faced energy bills that are "higher than is explained by market conditions", and in many cases have been forced to pay much higher deposits and standing charges.
Morley told the Guardian that a number of small manufacturers in the West Midlands had already gone bust since the government ended its original support scheme at the end of March, after just six months.
Small manufacturers are understood to be some of the worst affected due to their high energy use. The collapse of these firms, which make the components used by larger manufacturers, could have consequences for the UK's supply chains, he said.
The BCC estimated over a quarter of the UK's small businesses signed new energy contracts when prices were at their peak at the end of last summer. About 60% said they would face difficulties paying after March 2023.
Many were encouraged by the government to sign up to fixed price deals rather than tracker arrangements, meaning they were locked in to high prices.
A separate survey by the FSB found that 24% of small businesses were on fixed deals, and 320,000 may struggle to pay their bills. Tina McKenzie, the FSB's policy chair, said firms should be given "a fighting chance" by being allowed to "blend and extend" their existing energy rates with rates that reflect lower market prices.
Chris Noice, a spokesman for the Association of Convenience Stores, said: "Thousands of our members are dealing with the short-term pain of fixed contracts that were signed in the second half of 2022, at the height of wholesale prices".
In the absence of "meaningful" government support, ministers should "help them off these huge fixed contracts as soon as possible and on to something that better reflects the current wholesale market", he said.
Noice said government had advised retailers and other businesses to opt for fixed price contracts, because it said the energy bill relief scheme would provide more protection to those on fixed rates.
A government spokesperson said businesses had been offered £5.6bn of support over the winter, enabling some to only pay about half of the predicted wholesale energy costs.
"Global energy prices have fallen significantly and are now at their lowest level since before Russia's illegal invasion of Ukraine. The new level of government support reflects this welcome fall in prices, but we will continue to stand by businesses, as we have done over the winter," the spokesperson said.
Steve Hardeman, managing director of Clevedon Fasteners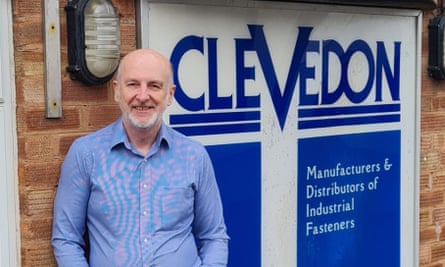 "The energy broker looked at me and said, 'well, you can see which way energy prices are going so why don't you fix for three years'," explained Steve Hardeman, the managing director of the rivet maker Clevedon Fasteners. Hardeman is one of thousands of managers who were urged to sign up to long-term fixed energy supply contracts at the end of last summer when market prices were at their peak.skip past newsletter promotion
"There were very few contracts available at the time so we considered ourselves lucky to get the deal that we did," he said. But today his company is locked into paying a rate of 46p per kilowatt hour for its energy, compared with a prevailing market rate closer to 28p/KWh. For smaller manufacturers the burden of overpriced long-term deals combined with the end of the government's previous support scheme could cause them to go bust, with disastrous consequences for jobs and the UK supply chain.
"All the government has to do is allow onerous contracts to be renegotiated. It would cost them nothing and have a huge impact on small manufacturers and inflation," he said.
Philip Ford, managing director of Hopscotch Children's Nurseries
"We don't have the option to say that we're going to turn the heating down," said Philip Ford, the managing director of six nurseries in East Sussex. "We have heard of some nurseries getting in touch with parents to ask them to send their children in with extra jumpers, but this isn't something we've done."
Ford is one of many small business owners shouldering a "massive" increase in energy costs following the end of the government's energy bill relief scheme in March. In its place is a campaign to help small companies cut their energy use and a new discount scheme that offers little help to small businesses, many of which were forced to sign up to long-term energy supply deals when energy markets reached their peak last summer.
Ford said the decision to sign up to long-term fixed rate energy supply deals last year felt "sensible" at the time, "because we didn't know where energy costs were going to go". At one nursery the quarterly electricity costs spiralled fourfold to about £6,000. In total, the Hopscotch group's energy costs have climbed from £30,000 a year in 2020 to £60,000 last year.
"We don't want to keep putting our hands out [for government support], but like all small businesses we're struggling. There are options which could reduce the burden in other areas, such as a cut to business rates," he said.
Ben Simons, convenience store operator
"It was a leap of faith," says Ben Simons, the owner of four convenience stores in Gloucestershire. Simons signed a long-term energy supply contract with his supplier when wholesale energy market prices were at their peak, believing that the government's support scheme would protect him from the worst of the cost crisis.
His energy bills climbed from 14p per kilowatt hour at the end of summer to 75p/KWh in October, almost three times the current market rate.
"It's a major burden for those companies that just happened to be unfortunate enough to need to renew their contract in third quarter of last year. Today I would expect to get a contract at less than 30p/KWh," he said.
"But I had little choice. If I had chosen a variable energy tariff the cost would have been eight times higher [than the previous deal], while the fixed rate deal was five times higher," he said.
Choosing the former would have put the business under in a matter of months. He also didn't expect that the contract would last longer than the government's scheme to help companies weather the cost crisis.
Simons urged ministers to compel suppliers to reopen long-term energy supply contracts at current market prices.
"If the government has washed its hands of direct help [for business energy costs] then they should help indirectly." he said. "It's an exceptional set of circumstances so if energy companies can do something then I think they should."
Source : TheGuardian