London and England's southern and eastern regions worst affected as higher mortgage rates sap demand
House prices have fallen in every local property market in the south and east of England this year, as higher mortgage rates have weakened demand for new homes, figures have shown.
About 80% of markets in the UK registered house price falls over 2023 compared with last year, the property portal Zoopla found.
All markets in London and the south and east of England registered price falls, as did more than half of those in the rest of England and Wales. Just under two-fifths of markets in Scotland registered price falls.
Rising borrowing costs and a squeeze on household incomes have meant some people are delaying moving or are unable to afford to take out a loan.
Weaker demand has resulted in a slowdown in house price growth from a 9.2% increase a year ago to a 1.1% decline this year, according to Zoopla's house price index. This marked the sharpest year-on-year fall in price growth since 2009, it said.
Nevertheless, the scale of price falls has been "modest", remaining below 5% in all markets, the analysis showed.
The number of UK house sales has been hit harder, with transactions on track to have fallen by nearly a quarter in 2023 compared with last year, to 1m.
It comes as figures shows the proportion of cash buyers – people who have money immediately available to buy a property and do not need to take out a mortgage – has swelled.
Zoopla said cash buyers accounted for about a third of all housing sales this year, up from a fifth over the last five years. About 60,000 more properties were bought with cash this year than throughout 2022, it estimated.
First-time buyers are on course to be the largest buyer group in 2023. While their share of total sales fell in recent years, a sharp increase in rents has fuelled demand, Zoopla said.
Richard Donnell, executive director at Zoopla, said: "House prices have proven more resilient than many expected over the last year in response to higher mortgage rates. However, almost a quarter fewer people will move home due to greater uncertainty and less buying power.
"Modest house price falls over 2023 mean it's going to take longer for housing affordability to reset to a level where more people start to move home again. Income growth is finally increasing faster than inflation, but mortgage rates remain stuck around 5% or higher.
"We believe that house prices will post further small falls, averaging 2% over 2024 with 1m home moves."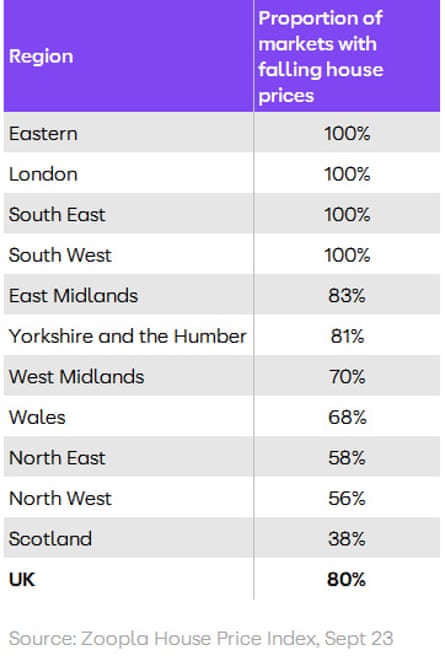 Tom Bill, head of UK residential research at estate agent Knight Frank, said that the usual seasonal autumn bounce had failed to materialise for the second year running.
"The major difference in 2022 was that there was a quick fix in the shape of a new prime minister," Bill said, referring to the exit of Liz Truss after the market chaos that followed her mini-budget drove up mortgage rates.
"Stubborn inflation over the summer sent rates higher again and activity levels will only improve this time round once buyers come to terms with higher borrowing costs and sellers with lower asking prices. Furthermore, as the general election approaches, attention is beginning to shift away from the Bank of England and towards Westminster for those attempting to guess the market's trajectory. Housing market activity tends to stutter before elections," Bill added.
Source : The Guardian