Firefighters are tackling a wildfire which broke out south of Inverness.
Crews and six fire engines were sent to the Daviot area, near the Auchnahillin Holiday Park, at about 14:45 on Saturday.
The blaze is about 30 miles (48km) from Cannich – the site of another recent wildfire, thought to be the largest recorded in the UK.
It comes on the hottest day of the year for Scotland, after 29.8°C was recorded in Auchincruive, Ayrshire.
The SFRS had warned of a "very high" risk of wildfire this weekend.
A spokesperson told BBC Scotland that information about the latest blaze was limited as the incident was ongoing.
Local residents have been advised to keep windows and doors closed due to smoke.
Anita Gibson is the owner of the nearby Auchnahillin Holiday Park.
"There's a fire up on the hill across the road," she said. "We've been told we don't have to evacuate or anything. But the fire in Cannich was on our minds.
"We are just waiting to hear if we have to do anything, but we are not panicking yet."
Smoke from the blaze has affected the area stretching for several miles.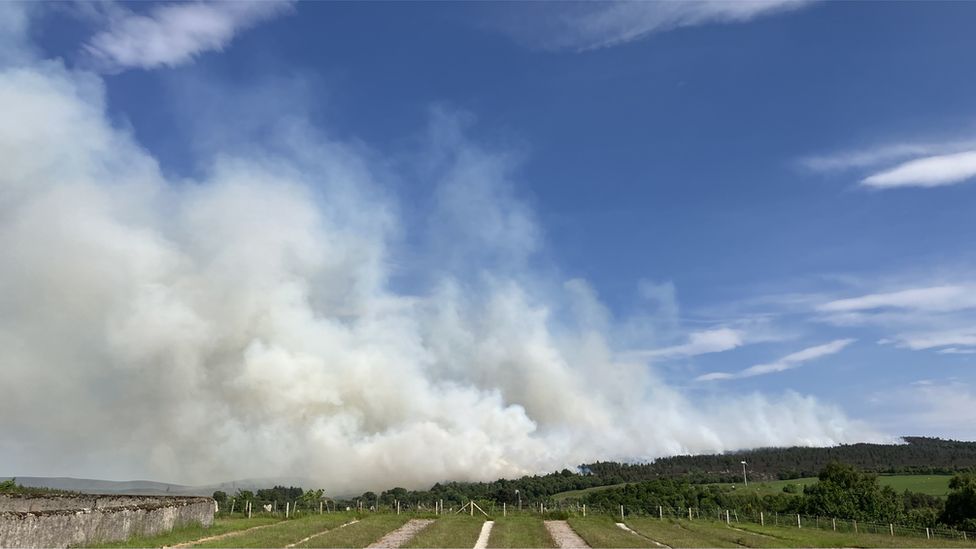 A spokesperson for the Meallmore care home in Inverness – about seven miles (11km) from the caravan park – said they had not been evacuated, but were "monitoring the situation closely and following advice".
The SFRS alert for wildfire risk covers most of Scotland. Parts of the Highlands, Dumfries and Galloway and the Borders were expected to reach "extreme" risk.
The blaze at Cannich burned for two weeks, causing extensive damage to an RSPB Scotland nature reserve.
Police Scotland said: "Emergency services are currently in attendance at a wildfire in the Daviot area south of Inverness.
"The Scottish Fire and Rescue Service are currently dealing with the fire and we would ask local residents to keep windows and doors closed due to smoke."
Source: BBC