British Gas-owner Centrica has reopened its giant gas storage facility to boost the UK's supply over the winter.
The energy firm said the site would allow for "cheaper gas" to be stored for the colder months and help "reduce or stabilise costs" for households.
The move comes after the UK's energy regulator said homes could face power cuts of up to three hours if gas supplies run low.
Centrica said reopening Rough was "not a silver bullet for energy security".
But it added: "It is a key part of a range of steps which can be taken to help the UK this winter."
The war in Ukraine has prompted fears over the security of gas supplies across Europe after Russia squeezed shipments.
While the UK does not rely on Russia for gas – it gets the majority from the North Sea and Norway – there are concerns supplies could run low as other countries scramble to secure alternative sources.
Energy regulator Ofgem has said that due to the war, there is a possibility the UK could find itself in a "gas supply emergency".
EU countries plunged into a gas-buying spree over the summer that has filled their storage tanks to nearly 95% for the winter. However, Centrica said the UK has some of the lowest capacity of gas storage in Europe with just nine days' worth.
In comparison, Germany has storage of 89 days' worth of gas, France has 103 days and the Netherlands has storage for 123 days.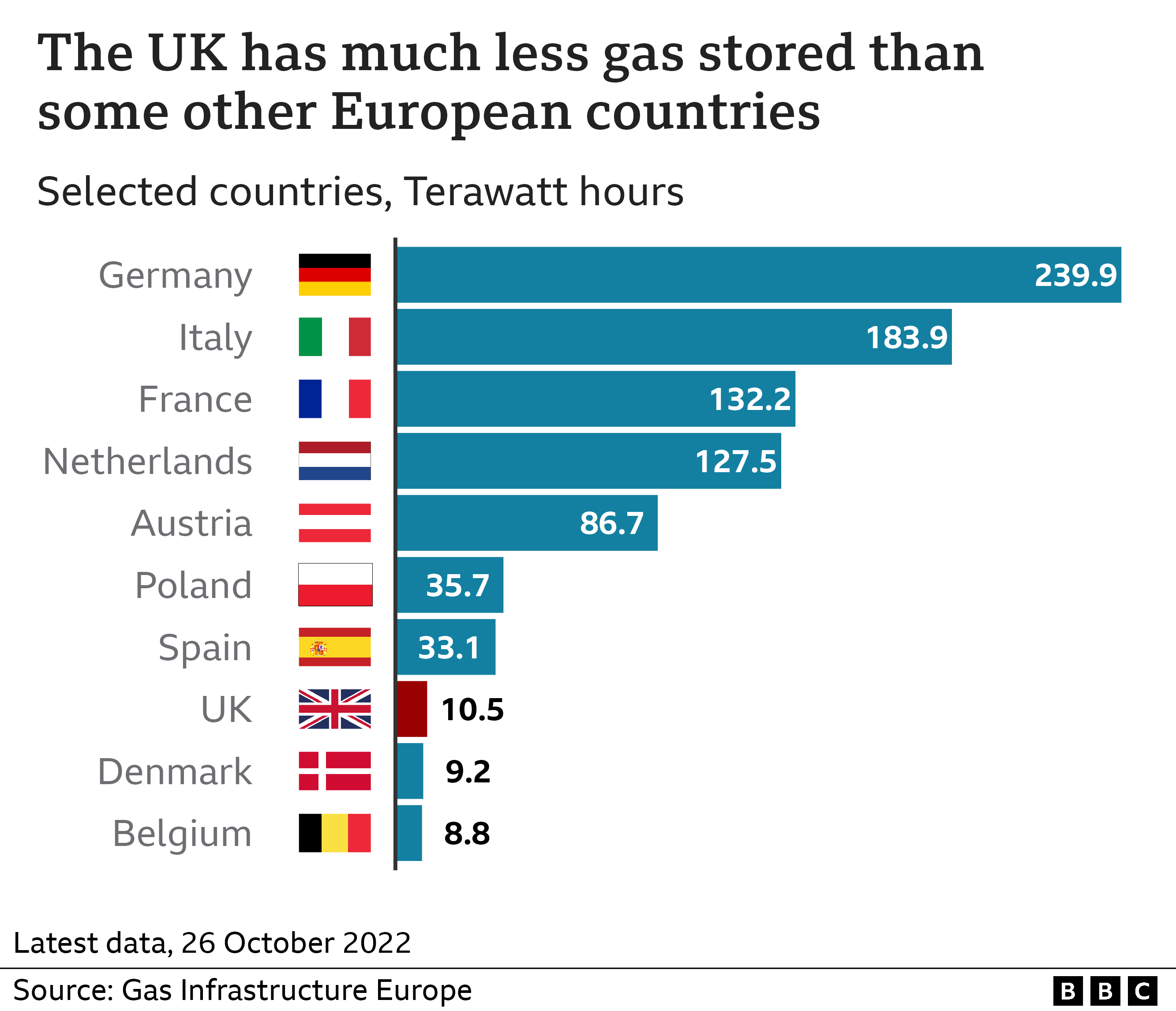 Gas-fired power stations generate between 40% and 60% of the UK's electricity.
National Grid has warned British households could lose power for up to three hours at a time this winter if gas supplies run extremely low, but said it was an "unlikely" scenario.
The Rough gas field was mothballed in 2017 when the government refused to subsidise it, but in May ministers and Centrica held talks about reopening it and significant engineering upgrades were completed over the summer.
The BBC understands Centrica has not asked for any government funding to reopen the site.
Reopening Rough might help us to get through a severe cold snap, or to cope with other peaks in demand, but as Centrica itself points out, it isn't a "silver bullet".
The facility is an old gas field, made of porous rock situated in the North Sea about 18 miles (29km) off the coast of Easington, Yorkshire.
It is a huge piece of rock which spans an area about the size of central London and is located about 1.7 miles deep under the seabed – a depth which is the equivalent of nine Shard London skyscrapers on top of each other.
Gas can be pumped in when supplies are available, then withdrawn when it is needed. A good way of thinking about it is as a giant battery, storing and releasing power to balance supply with demand.
The UK fundamentally lacks storage. Under normal circumstances we export surplus gas to continental Europe in summer, and buy back what we need in winter.
The current crisis has exposed the weakness of that system: If Europe faces shortages, we are likely to suffer the consequences, not least higher prices.
But Rough alone won't solve this problem – even when it's operating at full capacity.
Centrica said it could store up to 30 billion cubic feet of gas for UK homes and businesses over the coming colder months. The Rough facility is currently operating at around 20% of its previous capacity this winter.
The reopening of the facility will increase the UK's gas storage capacity by 50%, Centrica said on Friday.
Nathan Piper, head of oil and gas research at Investec, told the BBC that the Rough storage site would act in a similar way to the way reservoirs do in ensuring water supply.
He said the move would allow the UK to "take advantage" of current lower gas prices before temperatures drop and demand rises which will make gas more expensive.
"It is not a solution to higher prices but provides incremental security of supply," he said. "Even with Rough we still only store 2% of our annual gas demand, compared to over 25% on average in Europe."
UK natural gas was trading at around 50p a therm on Friday after steadily declining from peak of 550p a therm over the summer.
Centrica's chief executive Chris O'Shea said in the short-term the Rough field could help the UK's energy system by "storing natural gas when there is a surplus and producing this gas when the country needs it during cold snaps and peak demand".
"Our long-term aim remains to turn the Rough field into the world's biggest methane and hydrogen storage facility, bolstering the UK's energy security, delivering a net zero electricity system by 2035," he added.
Business Secretary Grant Shapps said the reopening of the facility would "further strengthen the UK's energy resilience and make us less susceptible to Putin's manipulation of global gas".
Source: BBC