It is seven years since the UK backed Brexit in a referendum. Newcastle was the first count in England to declare a win for remain – albeit very narrowly – closely followed by Sunderland, which overwhelmingly decided to leave.
As our changing relationship with the European Union (EU) reaches the so-called seven-year itch, are those who voted to leave feeling any differently? And are those who wanted to remain still reeling?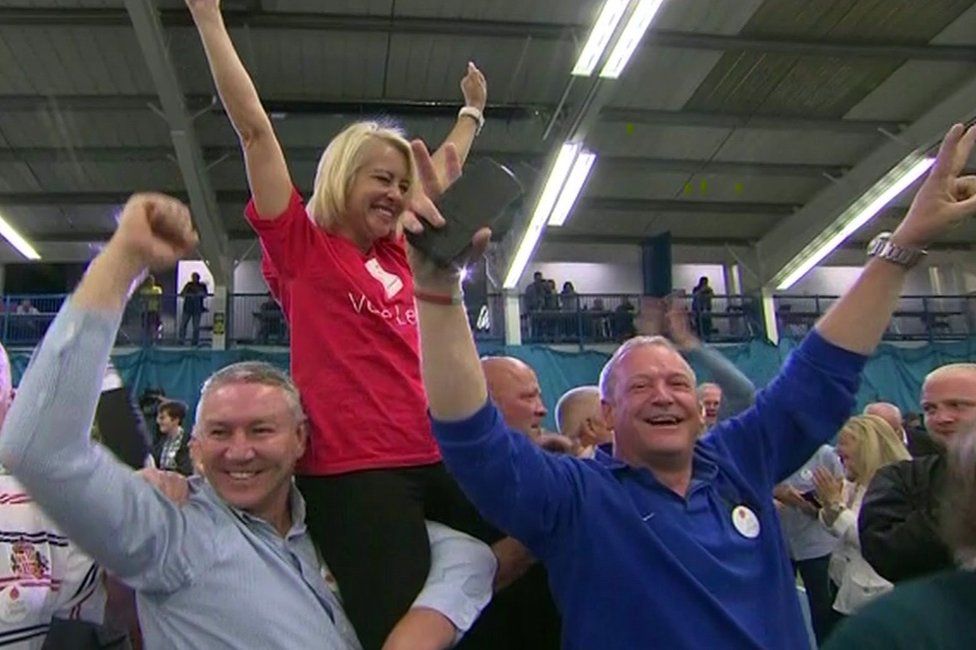 One of the most memorable images of the night the UK voted to remove itself from the EU came from Sunderland. An overjoyed woman dressed in a once-familiar red Vote Leave T-shirt, thrust on to a man's shoulders, raising her arms in jubilation.
At around a quarter past midnight, on 24 June, 2016, the city became the first to declare it wanted out: 61.3% Leave and 38.7% Remain.
It took another four years before Brexit actually happened, but would those who voted for it do so again?
"I would 100% vote leave," said Keith Rowe, who lives near the city's marina.
"I basically voted leave for my two daughters and my new granddaughter – for maximising their opportunities."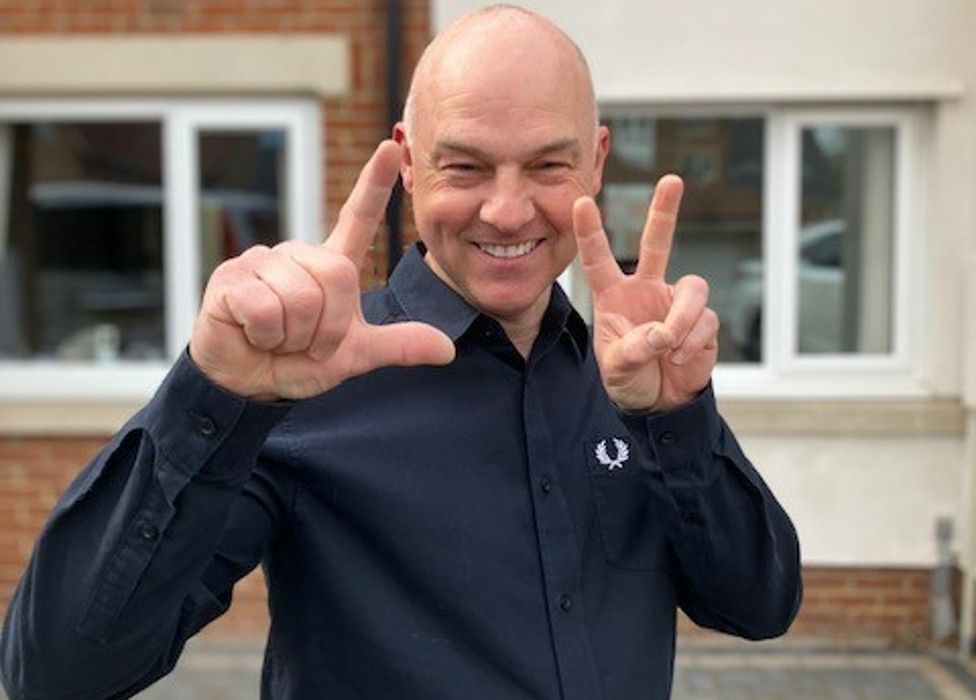 Keith remembers when the UK joined the then European Economic Community in 1973, when he was a boy.
"It brought a lot of positives," he said.
"They brought a lot of health and safety legislations and helped employment law for workers but I think over the last 10 to 15 years we saw a lot of policies that were enforced on the United Kingdom."
'Labelled as thick'
He thinks the referendum was "predominantly a vote for change".
"We were given a whole spiel of negatives but generally most people who voted for leave were quite positive types who wanted to maximise the opportunities of Brexit.
"You were labelled as thick if you were a leaver. I've got a science degree, I'm not thick. I can read around a subject like most people and work it out for myself."
He highlighted "two major benefits" of leaving the EU: The UK's response to the Covid-19 vaccine and coming out of the Common Agricultural Policy.
"I know there have been negatives. We've seen some short-term employment issues in the hospitality industry and travel but generally it's a bit more paperwork, they can still come," he added.
"In Sunderland we've seen a massive, massive incoming of migrant workers, good workers, coming mainly to things like our NHS.
"In 20 years I'd love to see how people look back and we can turn around and tell the Remainers "I told you so"."
'Unwanted and unwelcome'
Sunderland was not alone in the north-east of England when it came to backing leave.
In the North East of England, Newcastle was alone in supporting Remain, with a 1% margin.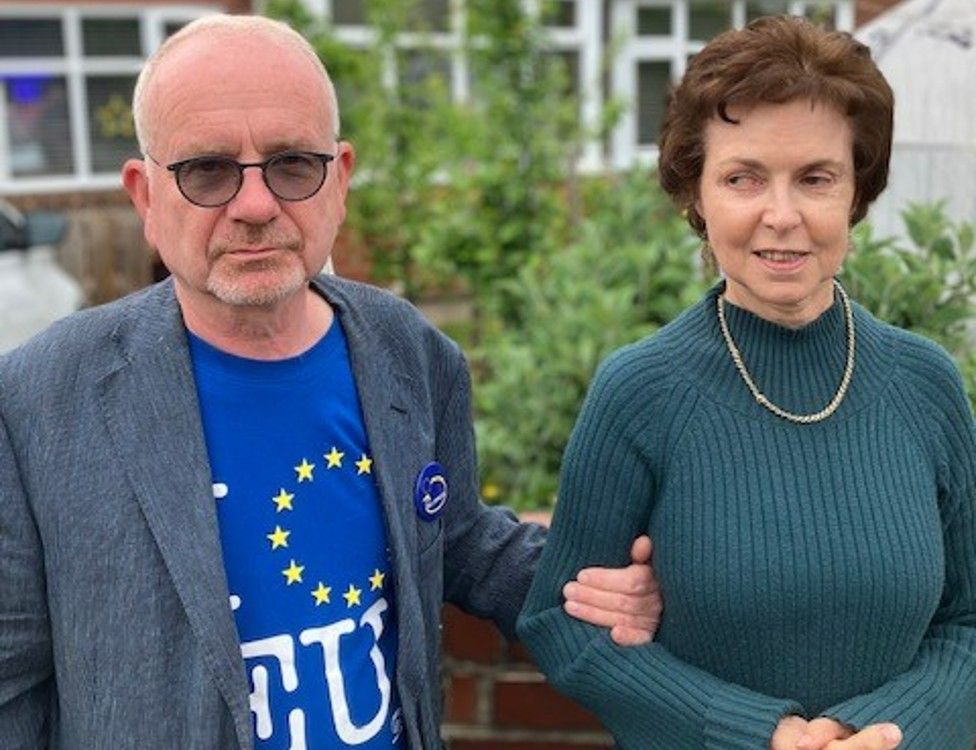 James and Janet Sheerin, who live in the city, proudly fly an EU flag outside their home. In one of the windows sits a flashing neon sign bearing the words "Brexit has failed".
"We have had so many people, complete strangers, call at the front door and say thank you for flying the flag," said Janet.
The city narrowly voted to stay within the EU, the results declared live as the clock struck midnight: 50.7% remain, 49.3% leave.
"I had a bet on the result and I won," said James.
"There was a lot of disquiet with Europe but really it was disquiet with Westminster and what was going on there.
"Most of my life I've lived in Europe, I'm a European person, we've travelled in Europe and it seemed good for us and good for the country.
"I couldn't understand why people would want to leave. Well I could, but I didn't agree with the reasons."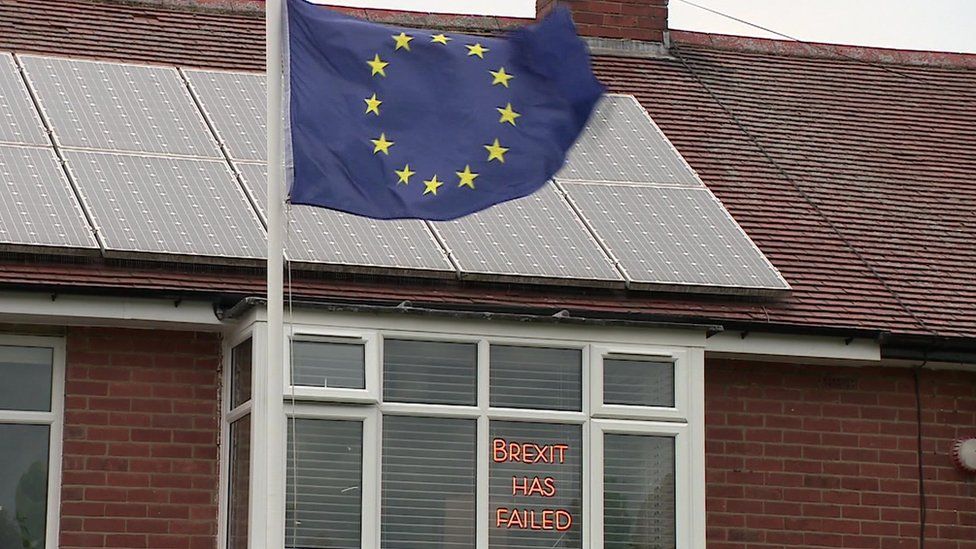 Janet voted remain so the UK did not become "alone and isolated".
"I thought it was awful the way that the Brexit vote made people who had been working here, living here, contributing here for many, many years – we made them feel unwanted and unwelcome," she said.
"And we've sent so many of them back to Europe. So many doctors and nurses. We don't have enough vegetable and fruit pickers in our fields we don't have enough HGV drivers. It's really damaged the economy and I cannot think of a single good reasons for leaving the EU."
The couple take a long pause when asked if they feel there have been any positives to Brexit.
"No," said Janet.
"I'm trying hard to think about it," said James.
He highlights the many new friends the couple have made who have come together for "a common cause".
"We can't continue as a little island on our own doing trade with people the other side of the world," he added.
"We're not going away and we won't go away until we rejoin the EU."
Source : BBC