At what point is a Marlborough sauvignon blanc so sweet it no longer tastes like a Marlborough sauvignon blanc? That is one of the questions that New Zealand winemakers are grappling with as the country experiences an increasingly warm, dry climate.
Winemaker John Hancock says the timing of the grape harvest in New Zealand has shifted as the climate has changed.
"We definitely have warming. I don't know how much. But we're picking a couple weeks earlier and with higher sugar levels than we were 30 to 40 years ago," he says.
While the warming climate poses a risk to some of New Zealand's world-renowned wine varieties – such as sauvignon blanc and pinot noir – it also creates an opportunity to grow in new areas and develop new flavours.
In Europe, a "northern shift" in growing conditions has meant grape varietals from Portugal, such as touriga nacional and albariño, have recently been approved for planting in Bordeaux, enabling more heat-tolerant varieties to be grown in one of the most traditional and strictly regulated wine regions of the world.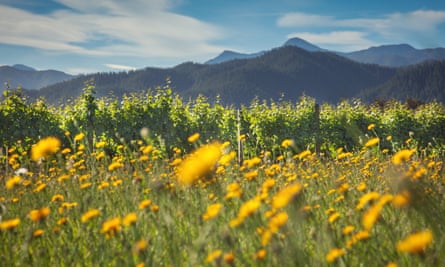 Dr Edwin Massey of New Zealand Wine Growers says the south of England now has very similar growing conditions to the Champagne region 20 or 30 years ago.
"As a result, there's some really high quality sparkling wine now being produced in the south of England … We're starting to see those shifts in other areas, and it's likely we will see that shift in New Zealand as well."
Winemakers also need to face the problems caused by natural disasters. The fruit-growing region of Hawke's Bay was devastated by Cyclone Gabrielle, in February, for example. The scale of the storm was blamed on climate change.
The next big grape
From alpine deserts in the South Island, to sub-tropical volcanic islands in the North, New Zealand has unparalleled diversity in its wine-growing regions.
Altitude and cool nights in the South Island create good acidity in varieties like pinot noir and sauvignon blanc. Warmer temperatures close to sea level in the North Island are better suited for varieties like syrah and chardonnay.
Changing temperatures have seen winemakers plant grapes in areas not previously thought suitable. Chardonnay, gamay and tempranillo are beginning to appear in Central Otago, the southernmost wine growing region on the planet.
Vines require three to five years of growth before they can produce a commercial crop, so many of these planting begin as an experiment to assess the viability of the grape for each vineyard's unique microclimate.
Gibbston is the coolest sub-region of Central Otago, famed for its pinot noir but previously considered too cold for chardonnay.
"It appears that the effect on our climate right here, is that things are getting warmer," says Simon Cox, a second-generation grower in Gibbston poised to harvest his first crop of chardonnay.
"The frequency and severity of frosts seems to be decreasing. And we are seeing consistently warmer seasons. It seemed the likelihood of getting a good chardonnay most years is probably pretty good."
These plantings were not solely a response to the changing climate, but also due to a changing market.
"We decided on another white variety that if it's good, you can get good money for it – so chardonnay."
The export value of New Zealand's wine has risen from $1.3bn in 2013 to $1.95bn last year, the result of both increased demand and rising prices.
This growth relies on the quality that comes from expert winemaking and consistent growing seasons that allow the flavour compounds within the grapes to develop slowly, achieving a balance between sweetness and acidity.
A changing flavour
Roughly 70% of the country's wine is produced in the Marlborough region, home to many of its sauvignon blanc and pinot noirs known for their quality and flavour.
But as the climate warms, growers are concerned about the impact this could have. Will the refreshing passionfruit acidity of Marlborough sauvignon blanc disappear into sweetness? In the French region of Burgundy, for example, wines are becoming higher in alcohol content but softer in acidity.
A proper answer to the question may only be possible in a decade or longer, as variations between vintages begin to demonstrate an overall trend. As Massey puts it, "it's a question of timescale … It's unlikely in the short term of the next 10-15 years to have temperature issues associated with those varietals of sauvignon blanc and pinot noir."
But Hancock has already observed a change over his long career.
"In the 1980s the sauvignon blancs were green and capsicum. Maybe we know how to grow it better, but perhaps the climate has had an influence on it too. Because we don't see that kind of sauvignon blanc any more."
Source : TheGuardian